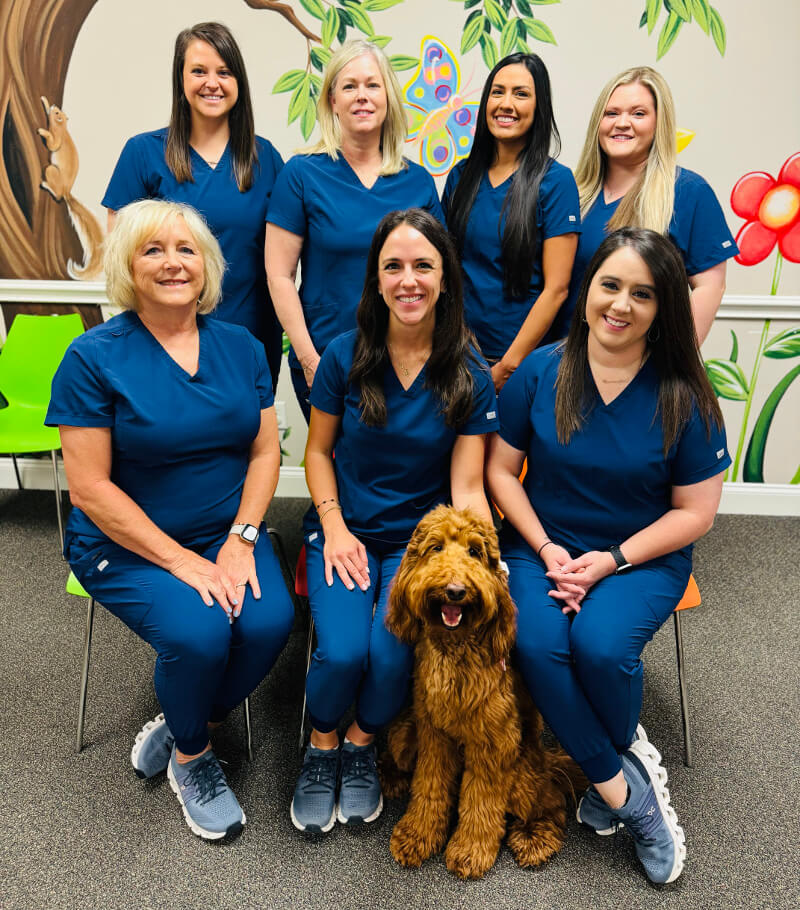 ---
Bandi
Insurance Coordinator
My favorite part of being an insurance coordinator is helping families with their dental insurance. It is important people understand their benefits and are able to maximize what is due to them. I submit our patients' insurance claims, follow up with the companies as needed, and post payments when received.
I have worked in the dental field since 2005, both as an administrator in the front office and as a registered dental assistant in the clinic. I have been with Smart Mouth Pediatric Dentistry since 2005 and love being part of a great team. Dr. Lansden is a pleasure to work with/for: she respects us and values what we bring to the office professionally and as individuals. As a team, we have a lot of respect for each other and enjoy working together in order to provide the best care and experience for our patients and their families.
Outside the office, I love to read and travel as much as possible. Time with family is important to me. I have been married for over 30 years and we have two adult kids plus a Great Dane.
Ashley
Patient Care Coordinator
I really enjoy interacting with and educating children and their families on dental health. Working in the front office, I check patients in and out, verify their insurance, and go over treatment plans with families. My most important responsibility is helping children have great dental experiences!
When I am not in the office, I enjoy spending time with my husband, Brian, my bonus son, Tucker, and our daughter, Harlee. We enjoy spending time outdoors, with our families and each other. FUN FACT: I grew up in Waco and am one of 9 kids in my blended families.
Chloe
Front Office
One of the best parts of working at the front desk is that I get to know our patients and families and catch up with them from one visit to the next.
I attended TSTC for dental assisting and graduated in 2013. I have worked in pediatric dentistry off and on since, and joined the Smart Mouth team in 2021. I feel fortunate to work with a team and doctor who value the same things that are important to me and always supportive, both inside and outside of our work lives.
Outside of work, I enjoy spending time with my husband Zac and our two young children, Bodhi and Banks. I can often been found outside playing with my kiddos, camping, hanging out with family and friends, or making runs to Target.
Erin
Dental Assistant
I love helping my patients feel at ease when coming to the dentist. It's a good feeling to help each child have a fun and positive experience! I work in the clinic where I assist the doctor with various procedures while keeping our patient comfortable and entertained.
I graduated from TSTC in 2013 and have worked in the pediatric dental field since that time. In 2021, I was invited to join Smart Mouth Pediatric Dentistry and couldn't be happier. Our doctor is great and kind, and everyone is here to help each other and to have a great day. The team maintains a positive environment, which is great for us and even better for our patients.
My husband and I were high school sweethearts and have been together for 15 years. We have two kids, Cristian and Tiffany, and two Bulldogs, Coco and Rooster, who are the sweetest pets. Some of my hobbies are exercising, crafting, and watching my kids play sports. I love having family time.
Kelly
Hygienist
I enjoy working with kids and teaching each how to keep their smile clean and healthy. In addition to cleaning teeth and taking X-rays, I provide the children and their families with personalized education about the importance of oral health.
In 1992, I graduated from the University of Texas Health Science Center San Antonio with a degree in dental hygiene. I then worked in general dentistry for two years before moving to pediatric dentistry. I've been with Smart Mouth Pediatric Dentistry since 2000 and appreciate being part of a team with the same values and work ethics. We're a small office, so we're like a family, and that includes the families and children we see, too.
I have lived in this community my whole life and raised my two children here. Living in the country with many animals, I enjoy gardening, traveling, and time with family and friends.
Lauren
Hygiene Assistant
Everyday is a fun day in a pediatric dental office. We are able to have fun and be "kids," but also educate kiddos on how to take care of their teeth! I assist the hygienist during cleanings, provide education, and offer lots of encouragement to the kids.
I studied dental assisting at Texas State Technical College in 2014 and started at Smart Mouth in 2015. My coworkers are family. We all have the best time together, outside the office and at work, which makes for a great environment for kids and families.
I have lived in Robinson all my life. As a child, I was even a patient here at Smart Mouth! My husband Jonathan and I have been together for over ten years, have been married for seven, and have a young boy named Remington. We also have two puppies, Abby and Scout. We enjoy spending most of our time outside and with family. Our most favorite place is the beach!
Tracey
Dental Assistant
I really enjoy working with kids and assisting the doctor during dental procedures. I have an Associate's degree, started in the field in 1989, and joined Smart Mouth Pediatric Dentistry in 2014. My teammates and I have similar personalities and goals and we all love providing a happy, supportive atmosphere for the families and kids.
Beyond the office, I enjoy being with my husband of 30 years and our two sons. We enjoy grilling and landscaping projects.